Chris Rock is famous for his career as a comedian, actor, writer, and producer. He is known for his sharp wit, social commentary, and outspokenness on a variety of issues. Hollywood comedian Chris Rock declined an offer to host the 2023 Oscars following an incident where he was slapped by actor Will Smith during the event. The incident caused a commotion and led to Smith's resignation from the academy. After apologizing for his actions, Will Smith was ultimately compelled to step down from his position following the escalation of the scandal, and the Academy additionally barred him from the Oscars for 10 years. As for Chris Rock, his net worth as of 2023 is estimated to be $60 million.
Who is Chris Rock?
On February 7, 1965, Chris Rock was born in South Carolina. His father was a truck driver and also sold papers, while his mother was a school teacher and helped mentally ill people. Growing up with seven siblings, Rock had a tough childhood due to racial bullying. He had to bear everything, from bullying to beatings. He left school at a young age to do odd jobs.
Chris Rock Net worth- A highest-paid comedian
During his tours, Chris Rock is known to be one of the top-earning comedians globally. For instance, from June 2016 to June 2017, he earned an estimated $60 million, making him the world's highest-paid comedian. From June 2017 to June 2018, he earned $30 million.
Netflix Special Payday
Chris Rock signed a deal with Netflix in 2016 to release two new stand-up specials for $40 million ($20 million per special). The first special, "Chris Rock: Tamborine," was released on February 14, 2018, and his third Netflix special, titled "Chris Rock: Selective Outrage," was streamed worldwide on March 4, 2023, and performed live from Baltimore.
Chris Rock Early Life
Andrews, South Carolina, was the place of Christopher Julius Rock's birth on February 7, 1965. His family eventually made their way to Brooklyn, New York, and settled in Bedford-Stuyvesant. He attended schools as a kid in a mainly white neighbourhood where he was bullied and harassed. He stopped attending high school when things got worse and obtained his GED while working at fast food joints.
Chris Rock Personal Life
Chris Rock tied the knot with Malaak Compton-Rock on November 23, 1996. The couple and their two kids, born in 2002 and 2004, lived in New Jersey. However, in December 2014, Chris filed for divorce, citing his infidelity and addiction to pornography. The divorce was eventually settled in 2016, with Chris reportedly giving his ex-wife real estate and liquid assets worth approximately $40 million.
During his marriage to Malaak from 1996 to 2014, Chris cherished being a husband and father, experiencing some of his 'highest highs'. Although their divorce was finalized in 2016, he still admires her for her selflessness as a mother and wife. Despite the breakup, Chris continues to prioritize supporting his children to become resilient adults, showcasing his devotion as both an entertainer and parent.
The career that enhanced Chris Rock Net Worth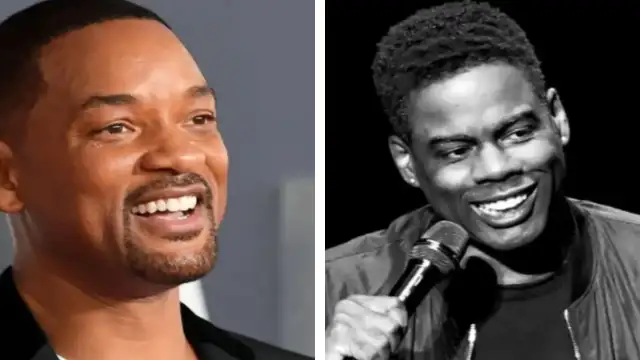 After dropping out of school, Chris held several jobs at fast-food restaurants before starting his career as a stand-up comedian in 1984. He made his stage debut at the chain of comedy clubs "Catch a Rising Star" and quickly became well-known. One night, while performing at a nightclub, he caught the attention of Eddie Murphy. Eddie Murphy, a well-known actor at the time, mentored Chris Rock after discovering him performing at a nightclub. They became good friends, and Murphy helped launch Rock's acting career in 1988 with "Beverly Hills Cop 2." Alongside his successful career in stand-up comedy, Rock has acted in various films and TV shows, such as "Grown Ups," "The Longest Yard," and "Fargo."
Rock's talents extend beyond his stand-up comedy, as he has also established himself as a successful actor, with notable roles in films such as "The Longest Yard," "Madagascar," and "Fargo."
Rock is also a multi-talented filmmaker who has worked as a writer, producer, and director on numerous film and TV projects. He is the creator and executive producer of the TV series "Everybody Hates Chris," which was inspired by his own childhood experiences.
Achievements
During the early 1990s, Chris Rock joined the cast of the sketch comedy show "Saturday Night Live" (SNL), where he was the only African American member. He quickly became a part of the popular group "Bad Boys of SNL." He released his subsequent stand-up special, "Bigger and Blacker," in 1999, and the media dubbed him "the funniest guy in America" after its publication. Rock's work in television comedy earned him a total of four Emmy Awards. His contributions to the entertainment industry have also earned him numerous other awards and recognitions.
Chris Rock has been widely recognized for his talent and achievements in the entertainment industry. He has received numerous awards, including four Primetime Emmy Awards, three Grammy Awards for Best Comedy Album, and a nomination for a Golden Globe Award.
Rock has also been highly ranked on various lists of the greatest stand-up comedians of all time. He was ranked fifth on the list of the top 100 greatest stand-ups of all time and fifth on Rolling Stone's list of the 50 best stand-up comics of all time. These accolades are a testament to his success and impact in the world of comedy.
| | |
| --- | --- |
| Full Name | Christopher Julius Rock III |
| Nick Name | Chris Rock |
| Date of  Birth | 7-Feb-65 |
| Age | 57 years old |
| Birthplace |  Andrews, South California |
| Father's Name | Julius |
| Mother's Name | Rosalie |
| Wife Name | Malaak Compton |
| Child | 2 Child (Lola Simone Rock & Zahra Savannah Rock) |
| Educational Qualification | High School drop out, GED |
| Profession | Actor, Comedian, Director, Writer, Producer |
| Height | 1.78 m |
| Famous for | Comedy |
| Net worth 2023 | About $60 million |
Chris Rock Net worth-Assets
Houses and Real Estate Properties
Chris Rock is the proud owner of multiple real estate properties, including lavish homes located in different areas. One of his purchases was a townhouse located in Brooklyn's high-end neighborhood of Clinton Hill for $3.35 million in 2014. Rock's most prized possession is his luxurious mansion situated in Alpine, New Jersey, which he acquired in 1996 for $3 million. Aside from these properties, he has also owned other homes in places such as Los Angeles and New York City. Chris Rock's current net worth is estimated to be around $60 million. He has invested several million dollars in his real estate properties. All this is evidence about his desire for a luxurious lifestyle.
Chris Rock net worth-Cars
Chris Rock is a known car enthusiast and has owned several luxury vehicles over the years, including a Bentley Bentayga, an Audi A6, and a Lamborghini Miura. He has also owned other luxurious cars, such as a Mercedes-Benz SL65 AMG, a Ferrari 458 Italia, and a Rolls-Royce Ghost. Rock has spoken about his love for cars in interviews, stating that he enjoys the feeling of being behind the wheel and the freedom it brings. He has also joked about the high cost of owning and maintaining such vehicles. Despite the costs, Rock's passion for cars remains evident, and he continues to add to his impressive car collection.
Chris Rock charities
Chris Rock has actively supported several charitable causes throughout his career. He has given time and money to charities like the Jackie Robinson Foundation, the Elizabeth Glaser Pediatric AIDS Foundation, and the Children's Health Fund. Rock has also been a strong advocate for gun control and has supported the Brady Campaign to Prevent Gun Violence. He has participated in various benefit concerts and events, using his platform to raise awareness and funds for numerous causes.
Chris Rock Net Worth
In 2016, Chris Rock struck a deal with Netflix to release two stand-up specials, for which he was reportedly paid $80 million. While many people are curious about Chris Rock's net worth, details about his finances can be hard to come by. However, it's estimated that his net worth is around $60 million, though he reportedly lost $10 million in his divorce settlement with his ex-wife in 2016 after their 20-year marriage.
Conclusion:
Chris Rock is widely regarded as one of the greatest stand-up comedians of all time, earning a spot on Comedy Central's list of the top 100 stand-up comedians. He is an accomplished actor, writer, producer, and comedian with a fantastic sense of humor.
However, during the 2022 Academy Awards, Rock made a joke about Jada Pinkett Smith, the wife of Will Smith. This caused Smith to approach the stage and smack the comedian in the face. Smith later apologized for his behavior, but the incident generated a lot of attention. Despite this incident, Chris Rock net worth remains on the higher side. He is one of the most popular comedians in Hollywood, with a current net worth of $60 million.